Slack is one of the most effective communication tools for digital marketing agencies. Slack's ability to group conversations into Slack channels so that participants can convene in one location to exchange ideas, reach decisions, and advance work makes it a powerful tool for collaboration.
It also offers a number of very useful Slack integrations and apps that help with a laundry list of SEO tasks like content marketing, link building, and generating Slack notifications for SEO reports and project management. It also enables teams to work more quickly and in unison no matter where they are.
Table of Contents
Here are a few of the apps and integrations that can help make your SEO workflow much smoother while working in Slack.
With one robust, user-friendly platform, HubSpot's marketing automation software will assist you in attracting the correct audience, increasing visitor conversion rates, and executing full-scale inbound marketing campaigns.
Having Hubspot allows you to get notifications when forms are submitted, search for contacts, share reports & dashboards, turn Slack messages into a HubSpot task or ticket, Use slash commands to search or post info from HubSpot and see a host of activities in your HubSpot CRM.
ContentKing is the only platform that offers real-time SEO monitoring and auditing, which is really useful in keeping track of all site activity. You are protected if links suddenly stop working, pages stop being indexed, or the title of a page changes.
The goal of Sitechecker is to assist businesses in increasing the SEO of their websites. It allows customers to spend less time looking for daily and weekly SEO statistics by sending them email notifications whenever something risky occurs with a website or important pages.
With contentful, you can update the content of your website, a mobile app, or any other platform that shows content using the platform. It also provides several tools that make it simpler to actually construct a website or app, saving you the time and effort of having to build your own backend to handle the content. The Slack app also gives you the ability to post messages from within your Contentful space. 
You can manage content as diverse as video, music, images, text, code or structured documents – anything can be put in there, appropriately structured, and created by multiple editors.
They also have a Contentful Slack community for developers, editors, and content makers who use Contentful.
Zapier supports thousands of apps like Gmail, HubSpot, Typeform, and more. You can set up automated processes, or "Zaps," that transform Slack into the command hub for your team in only a few minutes. 
Bring information about new leads, social media mentions, or calendar events directly into the conversation. Create a to-do list item whenever you save a Slack message.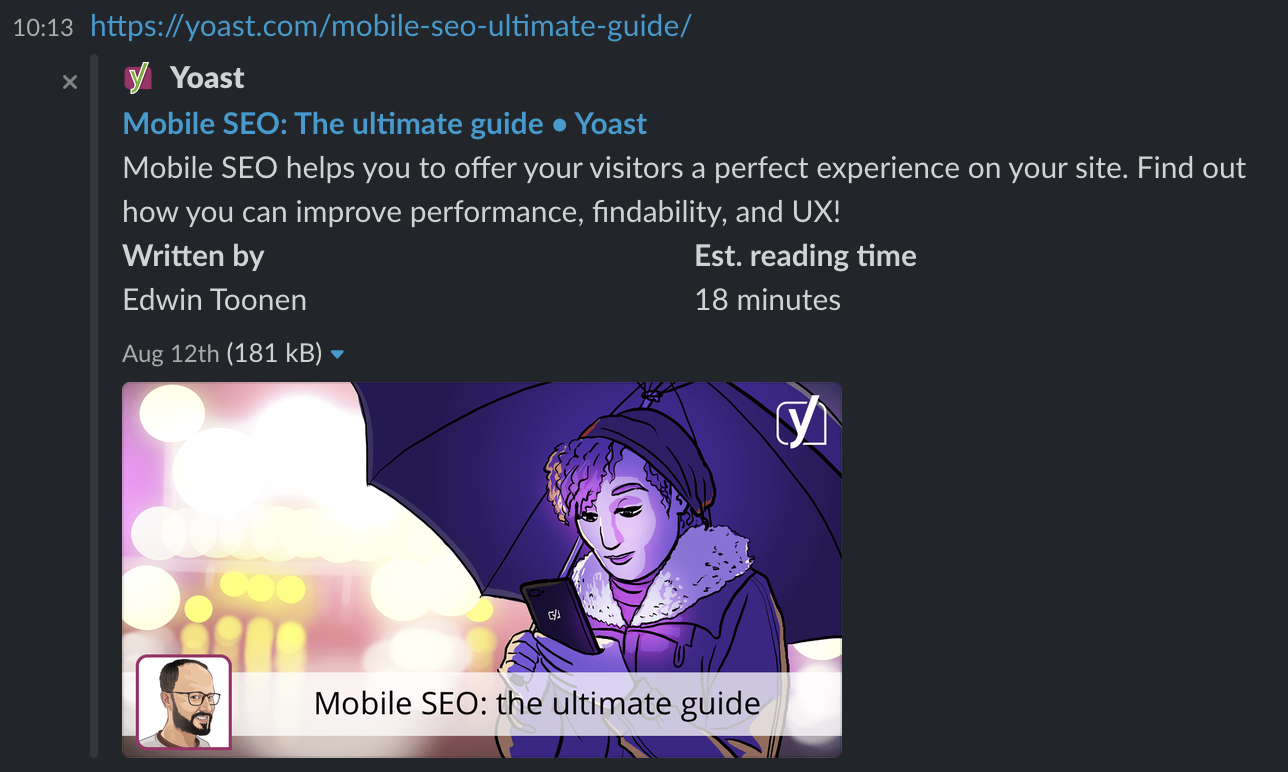 One of the nice things about Zapier is the ability to integrate it with Yoast SEO. You can then easily share the title, featured picture, description, and URL of fresh WordPress posts created using Yoast SEO in Slack conversations thanks to this connection. It also gives you the ability to see the reading time associated with the piece of content you sharing.

Clickup is a project management tool that organizes tasks, reminders, calendars, to-do lists, for you and your teams – all in one place. It's one of the best tools available for keeping everyone in sync, particularly for a remote agency like ours and have to manage freelancers as well as internal team tasks. some of the Slack app's features include:
Slack Actions: This feature lets you

create tasks and leave comments from messages.

Commands:

Simply write

/clickup new

to start a new task from your Slack feed in any channel!

Slack Notifications.

Receive notifications from the Space, Project, or List of your choice. Without ever leaving Slack, you can get alerts about new ClickUp tasks, status changes, new comments, new attachments, or assignee changes. The updates to tasks will automatically be sent to any Slack workspace and channel you want.
If you want to know more about how our agency uses ClickUp for SEO project management check out our podcast chat about Quick & Easy Tips You Can Do Today To Help Improve Client Communication.
Trello is another project management tool with a more visual interaction than Clickup. It also allows for team members to collaborate, assign task cards, brainstorm, and stay on top of ongoing projects. It's a bit more streamlined in comparison to ClickUp. There's less of a learning curve to get started but its drawback is that it doesn't offer as many features or customization as ClickUp does. That said, the project management tool that works best is the one that your team will actually use so, this can be a better fit depending on your workflows and goals. With the Trello integration you can:
Add new cards:

With the /trello add command, add new Trello cards to boards directly from Slack.

Make adjustments

: Change due dates, add conversations, and join Trello cards and boards

Share Cards & Boards

: For automated card and board previews with members, descriptions, comments, and more, invite @Trello to a channel.

Easily Add Members:

New members of your Slack workspace can join your Trello workspace and boards with just one click.
The Google Drive Slack app has a ton of uses whether you need to share Google docs, sheets, client slide decks, etc. You can receive alerts for fresh comments, access requests, and files shared with you. 
From Slack, you can respond to comments and grant coworkers access to Google Drive files. This can be very convenient if you write a lot of content or need to grant access and share Google files quickly without having to search through a mountain of stuff on your cloud drive.
Making the most out of SEO Slack Communities
If you want to make the most out of Slack for SEO you should utilize its ability to connect you with industry experts across the globe—SEO Slack communities offer this added benefit. If you aren't familiar with them already they basically operate in the same way Facebook groups do however they are organized into Slack groups & channels. So, for an SEO Slack community, the conversations are subdivided into channels for things like "Marketing Tools", "Linkbuilding", or "Content Marketing".
Here are some of the best Slack communities for SEO & Digital Marketing:
Traffic Think Tank

Online Geniuses

BigSEO

Marketers Chat

#backlinks

CRO Growth Hacks

Creative Tribes
You can gain a ton of new ideas by interacting in Slack communities and stay up-to-date on the latest SEO trends and topics. These SEO communities on Slack are a great alternative to social media especially if you are looking for specific communities like SEO project management.  You can ask questions, network, gain new perspectives, and poll community members for different apps or Saas tools they are finding to be most effective.